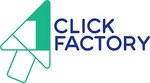 UAB "1ClickFactory" offers job:
UAB "1ClickFactory"
1ClickFactory is a leading Dynamics cloud software factory, a Microsoft ISV Development Center (one of 5 in the world) and the provider of Certified for Microsoft Dynamics quality assurance for Microsoft, Partners and ISVs across the world. The largest provider of NAV on Azure services in the world, 1ClickFactory is on the forefront of the Dynamics technologies helping Microsoft partners move forward into the Cloud.

As a company, we have an open Nordic culture, with high level of freedom coupled with distributed responsibility. It is a place where different opinions are valued as these help us create the best solutions for the Microsoft partners we serve. We are proud to grow the competences of our people as our company continues to grow.