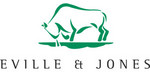 Eville & Jones UK Ltd offers job:
Eville & Jones UK Ltd
Eville & Jones is a veterinary company with long history of over 25 years of excellent service.

We are a leading provider of out-sourced official veterinary controls throughout Europe.

We are looking for qualified Veterinarians with experience in providing official controls in the abattoirs and in meat inspection to join our team of Official Veterinarians and to start their careers in Food Safety sector in the UK.