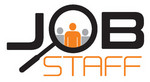 Job-Staff B.V. offers job:
Job-Staff B.V.
Job-Staff is an international network of leading companies offering career opportunities in the area of Telecom, Construction and Programming.

Job-Staff provides access to the best career and relocation opportunities. Our customers can enjoy easy job application, employment and relocation process - we facilitate contracting, documentation, work permits, accommodation and travel arrangements.