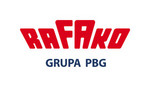 Rafako S. A. offers job:
Rafako S. A.
RAFAKO is a leader on the Polish power generation equipment market and the biggest boiler producer in Europe. Ca. 80% of boilers operated by Polish utilities had been delivered by RAFAKO. The Company is also a leader within the field of flue gas desulfurization plants based on wet lime and semi-dry methods.
RAFAKO offers general contracting within the scope of fossil fired power generation units, boiler island in particular, including PC boilers for sub- and supercritical steam parameters, CFB boilers, HRSG and stoker fired boilers as well as flue gas cleaning plants and equipment. The Company also offers boilers for waste incineration and biomass combustion.