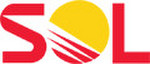 SOL Baltics OU Lietuvos filialas offers job:
SOL Baltics OU Lietuvos filialas
The Finnish company "SOL Baltics" is the biggest company in the Baltic countries, providing real estate services. The company's annual turnover exceeds 20 million euros and employs 2,300 workers.
We at SOL believe in a positive image of humankind, where everyone wants to work and succeed in their work and each of us is a different, creative, thinking, acting and feeling human being. We want to encourage and give feedback in order to develop in our work.